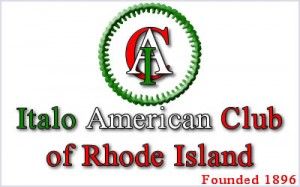 The board of directors at the Italo-American Club of Rhode Island will present its Outstanding Achievement Award to Mayor Charles Lombardi and his chief of staff, G. Richard Fossa.
"We are proud to honor them for their Italian heritage and many accomplishments," said the club in a statement.
Lombardi and Fossa will be honored by their fellow Italo-Americans at a dinner on Oct. 18.
Club President Joseph Rendine told The Breeze that Fossa and Lombardi will be hailed for their many achievements both in public and private life. These two have exemplified what it means to "serve with integrity" and to "make a name for themselves," said Rendine.
Rendine said the plan was to honor Lombardi and Johnston Mayor Joe Polisena last year, but because Lombardi was getting the Italo-American Man of the Year award from the Verrazzano Day Observance Committee in 2013, the mayor declined to accept a second award in one year.
The careers of Lombardi and Fossa have been tied together for many years, said Rendine, who previously served with Fossa on the North Providence Town Council. Fossa has "held probably every" position there is to hold in town, he said, including councilman, school board member, chairman of the Democratic Town Committee, and mayor.
Lombardi said he is "thrilled" to receive the award from one of the oldest clubs of its kind in the United States, especially since Fossa will be by his side.
"I'm honored, and Dick feels the same way," said the mayor. This will be the first time two individuals receive the award at once, he said.
The Outstanding Achievement Award honors Italo-Americans like Fossa and Lombardi who have made names for themselves, said Rendine. There are no "run-of-the-mill" people who win, but only those who have dedicated themselves to bettering themselves and the people around them.
Rendine, who was selected by the Town Council this year to serve as the town's interim clerk, declined to elaborate on the "political accomplishments" of Fossa and Lombardi, because the focus of this award is on who they are as people. These two have served with honor and have given to numerous charitable causes, he said.
The Oct. 18 event will be held at the Providence Marriott Hotel, 1 Orms St., Providence, with cocktails at 6 p.m., dinner at 7 p.m. Entertainment will be provided by the Reginald Centracchio Band. Tickets are $60 per person and tables of 10 may be purchased. All proceeds benefit the Italo-American Charitable Trust.
For tickets and information, call the Italo-American Club at 401-621-5600, Rendine at 401-231-5909, Peter Montaquila Jr. at 401-623-0514, Anthony "Nappy" Napolitano at 401-524-5657, or Gene Waldeck at 401-286-5959.
Article Credit: Ethan Shorey – valleybreeze.com